Mayor of Montego Bay and Chairman of the St. James Municipal Corporation, Councillor Homer Davis has announced that a 15 seater Hiace Bus will soon be presented to the Maldon High School.
 
Speaking at the 50th anniversary banquet of Maldon High School held on Saturday June 30, 2019 at the Grand-A-View Restaurant in Montego Bay, Mayor Davis said approval  has already been given by the Ministry of Transport for the bus to be bought and delivered to the South St. James based school.
 
"In contemplating what we could do for Maldon High School as the institution celebrates its 50th anniversary, I wrote to Minister of Transport and Mining, the Hon. Robert Montague and I can assure you that he has given a commitment that he will making funds available through the National Education Trust for the purchasing of a Toyota Hiace bus for Maldon High School", Mayor Davis said.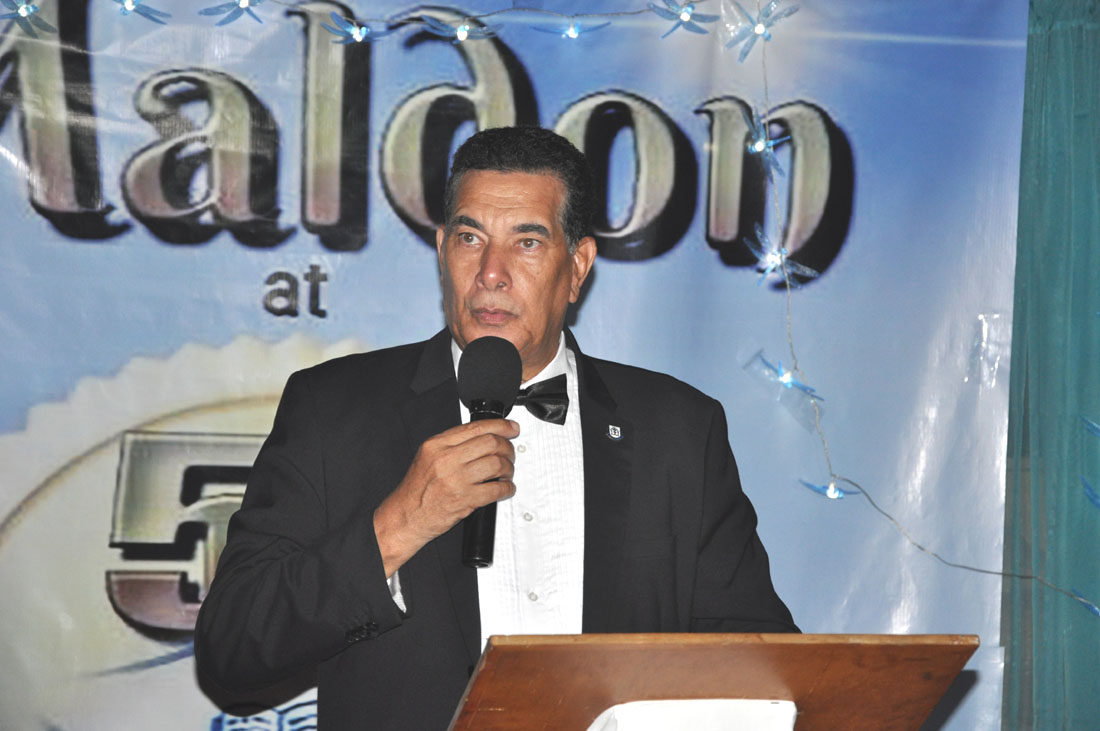 Mayor of Montego Bay, Councillor Homer Davis speaks at the 50th anniversary banquet of Maldon High School held on Saturday June 30, 2019 at the Grand-A-View Restaurant in Montego Bay 
He added that the donation of this bus comes against the background of the school's involvement in co-curricular activities and the need for those representing to travel in safety and convenience.
 
Mayor Davis also pointed to investments made at the school by the St. James Municipal Corporation through the advocacy of Councillor for the Maroon Town Division, Everes Coke in creating a much safer school environment and a "better look" for the school.
 
He said "realizing that Maldon's 50th anniversary was upon us, Councillor Coke advocated for and got the support of the Corporation in upgrading the sidewalk at the school, build a new bus shed and a new school sign to give the environment a better look and create a safer environment for the students and teachers and members of the public. This project is just the beginning as we have lots more work to be done"
 
Meanwhile, in congratulating the school on the celebration of its golden anniversary Mayor Davis said "Maldon High school has over five decades, earned the reputation of delivering a great secondary school education to thousands of Jamaicans from the hills of St. James, stretching into other areas of the parish and even into neighbouring St. Elizabeth and Westmoreland. On behalf of the St. James Municipal Corporation and the people of this parish, I offer heartiest congratulations to everyone who have played and continue to play a part in the development of Maldon High School. I urge you to continue to shine like a beacon on the hill and your light will surely not be hidden".
 
 Making reference to a famous speech delivered by the late former Prime Minister Hugh Shearer regarding a number of schools which were built by the government of the 1960's, Mayor Davis said Maldon High School was one of those educational institutions which were "built by Labour"
 
He said "thanks to the government which was in office just over 50 years ago and gave instructions for a number of schools to be built across Jamaica. In other words, Maldon High Schools that our late former Prime Minister Hugh Lawson Shearer spoke about about when he said Maldon High School-Built by Labour. I Must say that 50 years after it doors were first open, this high school continues to excel and expand…and has carved out a wonderful reputation in the fields of academics, sports, community involvement and of course the nurturing of great minds for our country".
 
Mayor Davis added that "education is about transforming lives and what you have been doing at Maldon High School for the past 50 years is playing a significant role in the transformation of our society into a strong country to confidently face a global environment which is now going through the Fourth Industrial Revolution.
 
Maldon High School, located in Summer Hill, Southern St. James was built and opened in 1969 with Samuel Buddle as its first Principal.