The St. James Municipal Corporation continues to make it easier for citizens to pay their property taxes through the staging of collection blitz across the parish.
 
The very popular Mobile Property Tax Collection Mobile Unit from the Ministry of Local and Rural Government is set to return to St. James for three days, June 23, 24 and 25, 2021.
 
The Mobile Property Tax Mobile Unit will be operating from Bugs Bunny's Plaza in Lilliput on Wednesday June 23 before moving to Maroon Town Square at Mrs Gwendolyn McBean's Shop on Thursday June 24, and  then on Friday June 25 it will operate from Fairview at Grab N' Go Texaco-10 am to 3 pm each day.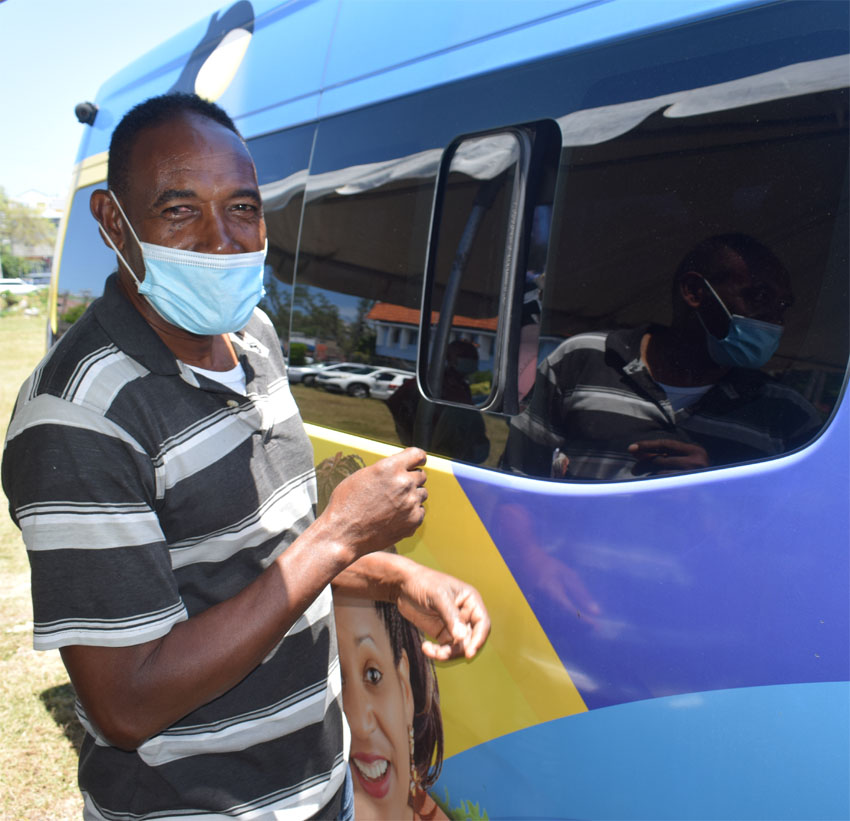 This tax-payer was all smiles after completing the payment process at an oustation held at the Pier 1 open lot located to the rear of the Montego Bay Revenue Centre in April.
 
Chief Executive Officer, CEO at the St. James Municipal Corporation, Gerald Lee is encouraging residents of the parish to take full advantage of the tax collection blitz" over the three days.
Residents are being encouraged to visit the locations to make queries and payments towards their property taxes.
Mr. Lee said "citizens are being encouraged to come out and conveniently pay their property taxes over the three days. They can also take advantage of the convenient payment plan which the Tax Administration of Jamaica, TAJ, has put in place to assist persons who may be having challenges in making the payments.
 
He added that all COVID-19 protocols will be observed at the outstations and that all measures will be put in place to safely accommodate clients.
 
Mr. Lee said "individuals who find it difficult to visit the Tax Office, especially during this time of COVID-19 should rest assured that gathering limits, hand sanitization and mask wearing will be mandatory during the blitz. The locations for these outstations have been carefully selected with a view of reducing travel time for citizens".
 
He said the St. James Municipal Corporation has seen a general appreciation from the citizens for this tax collection blitz and that the programme will be maintained.
 
"Over the years, we have seen where citizens of St. James have been extremely receptive to the outstations. We continue to bring the tax office to the citizens as part of our efforts to collect much needed revenues. These funds are used primarily to provide service to the citizens across the parish and so I am imploring more Property Owners, Renters, Lessees and occupiers of lands to pay their property taxes and avoid penalties", Mr. Lee stated.
 
The promotional Property Tax outstations form part of the collaborative approach of the St James Municipal Corporation and the Tax Administration Jamaica (TAJ) to bring awareness to the public on the importance of paying property taxes.
Property Taxes pay for streetlights, garbage collection and disposal, parochial road rehabilitation and improving community spaces.