Reserved in demeanor, Tamra Cunningham, a proud native of St. James does not look a day older than twenty four years. However, she has dedicated that many years as a public servant within the Ministry of Local Government and Rural Development. The journey towards fulfilling her current role as Director of Finance at the St James Municipal Corporation (formerly Parish Council), has been nothing short of a whirlwind- the kind of dieresis that inspires.
Tamra's life embodies the adage "many are called but few are chosen", as Accounting was always an inclination that she brushed aside. In fact, at the culmination of her high school tenure at York castle High in St. Ann, she was hell-bent on pursuing a career in pharmacology so much so, that she started at then St James Parish Council out of sheer necessity to fund her university ambitions.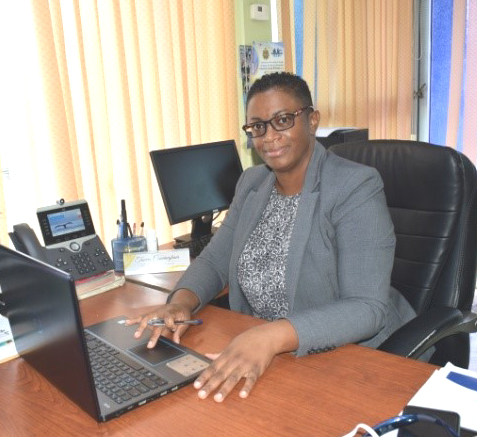 ELEGANCE AT ITS BEST: Tamra Cunningham, the Director of Finance at the St. James Municipal Corporation spares a moment to take a photo before tackling a day's busy schedule at the office. 
The Beginning
Entering the St James Parish Council in 1997 as a young mother, Tamra had hopes of working in the accounting department but with the only vacancy being in the Registry Department, she reluctantly accepted, and that was the start of a long and rewarding 24 year career as a public servant.
Tamra spent an exceptional three years in Registry, implementing systems and strategies for greater efficiency, while keeping her hopes of working in the accounts department alive. She recalls being overly eager to learn as much as she could about the various departments but was especially inquisitive about the operations of the accounts department. To this end, Tamra volunteered to assist in the accounts department during her lunch breaks and her interest was soon noticed by the then Secretary Manager, Lillieth Allen who then gave permission for her to assist in the accounts department in the evenings.
The permission to work in the accounts department and the fact that her duties in the Registry department had become mundane, was exactly what the doctor ordered for Tamra who immediately applied for a position within the accounts department. However, on two separate occasions she was denied and took to bathroom therapy as she recalls running to the bathroom to cry.
When Opportunity Knocks
Eventually, an opportunity came up in 2001 when the accounts department faced challenges in filling a personnel position. With the knowledge she had garnered from volunteering, Tamra was offered and gladly accepted the position as an Accounting Clerk tasked with preparing fortnightly salaries, dodging the protocol to start as a cashier.
Things quickly progressed but Tamra who still had her eyes on pursuing pharmacology, was by this time enrolled in evening courses in pursuit of that dream.
An Accounting Technician position came up at the St. James Municipal Corporation shortly after and she quickly filled that gap. Within another two years, she segued into a supervisory position as an Accounting Technician taking on greater responsibilities.  Being next to the Auditor at the time, she recalls being overly curious about auditing and used every opportunity to learn.
Things in her new role were off to a good start; still, all was not well.
At this point, all accounting functions were still being carried out manually. From her recollection, bank reconciliation was a manual, painstaking experience, so was physically writing the pay slips for every single staff employed to the Corporation. Out of frustration and dire need for pragmatic solutions, Tamra, not only lobbied for the use of computers but worked closely with the Technical staff to computerize some of the Accounting functions. This was met with widespread cynicism and trouble soon struck when Auditors visited and pointed out several challenges with the new system. To Tamra's grave disappointment, the accounting staff had to return to manual operations.
Auditing at the St Ann Municipal Corporation
Finally, in 2007 the Accounts department in St James municipality became automated. Yet, more challenges lurked.
Only two months into being automated and Tamra had been recommended for a temporary Auditing position in at the St Ann Municipal Corporation- where operations were still being done manually. Once more, her inquisitions and interest had equipped her to leverage the opportunity.
Auditing at the St Ann Municipal Corporation came with a unique set of challenges but as Tamra puts it, "I was never one to back down from a challenge".
Working two parishes away from her son was a monumental sacrifice she had to make. Conversely, she served unwaveringly, working early days and late nights, earning the respect and admiration of her colleagues at the St. Ann Municipal Corporation and at the Ministry of Local Government and Rural Development.
Becoming Director of Finance
Tamra Cunningham is down to earth as one can be, but to many, her strong willed personality is masked by her quiet and determined deportment. Tamra has, for the greater part of her life, given dedicated service to four municipalities across Jamaica…St. James St. Ann, Trelawny and Portland. However, she first started in the capacity of Director of Finance (DOF) in 2009, when she was recommended to fill the temporary post in Trelawny. After a short but impressive tenure, she returned to auditing in St Ann. At this point she was yearning to return to St James. In 2011, in a move that felt like punishment at the time, she was transferred further away from St James in a permanent DOF position in Portland.
Immediately she realized the work ethics there was vastly different from the hustle and bustle she had grown accustomed to. Furthermore, accounting was still being done manually. She quickly spearheaded the automation system and ended up revolutionizing the pay bill system in Portland. Her success in Portland was drastically contrasting to the decline in her son's academic success. Tamra knew she had to make a radical change.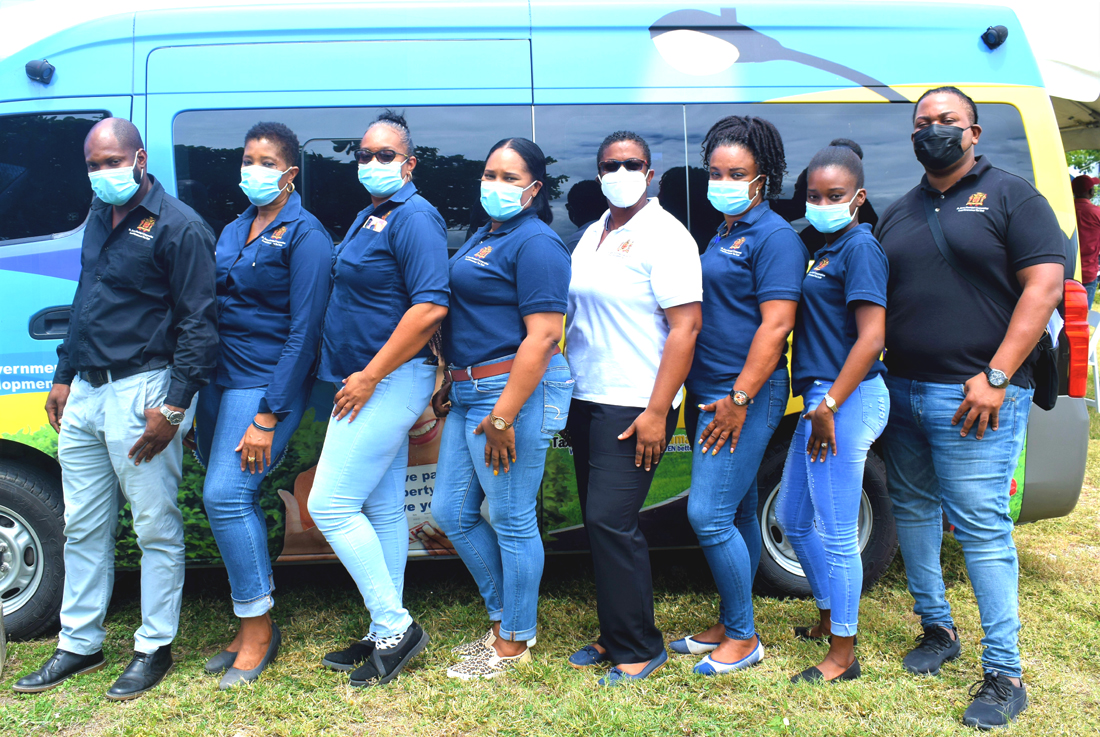 TEAMWORK MAKES THE DREAM WORK: One of the hardest working group of employees at the St. James Municipal Corporation is the Property Tax Compliance Unit which on a regular basis ensures that its revenue targets are met. Here Director of Finance at the St. James Municipal Corporation, Tamra Cunningham shares a photo opportunity  with members of the Unit. Pictured from left are: Miguel Moulton, Julia Robinson, Wendye Smith Peterkin, Khadine Prince Beckford, Shanika Jack, Verona Wellington Cooke and Chevon Green.
Returning Home
She penned a letter to the services commission practically begging to return home. Her pleas were met with favourable response and in 2013 Tamra returned to St James as the Director of Finance.
Having worked with copious administrations over her 24 year tenure, Tamra has had her fair share of challenges. Fast track through the whirlwind, Tamra maintains laser focus on transforming operations in her field.
As the Director of Finance at the St James Municipal Corporation, she is tasked with managing the financial resources of the parish as well as managing the people who manage those resources. This she does with poise and tenacity and encourages young staff to use the organization as a learning ground. "It can prepare you to work anywhere in the world because if you apply yourself and learn, the Municipal Corporation is like a university that prepares you for success", she advises.
Looking back at her almost two and a half decades of serving the public and especially her career in the field of finance, Tamra remains adamant that "if I had to do this all over, there are just a few things which I would change and those are directly related to being always being close to members of my family. I really love what I do and believe that public service and especially being trusted with the management of the Corporation's finances do have its challenges, but is also a job that gives personal satisfaction".
Tamra, concluded by pointing out that "I would encourage every young, responsible and indeed honest Jamaican to work in the public service. This is a sector where doors are always open to those who want to honestly and creatively give their service. It's a noble arm of government and once the rules of engagement are followed, you will always be satisfied with the outcomes".