Mayor of Montego Bay and Chairman of the St. James Municipal Corporation, Councillor Homer Davis remains hopeful that members of the Security Forces will be able to put a firm lid on the scourge of crime and violence which has been wreaking havoc on the parish of St. James.
 
Addressing the annual Christmas Tree Lighting Ceremony in Sam Sharpe Square on Sunday December 15, Mayor Davis said the people of St. James have endured and the year 2020 is expected to bring a major change.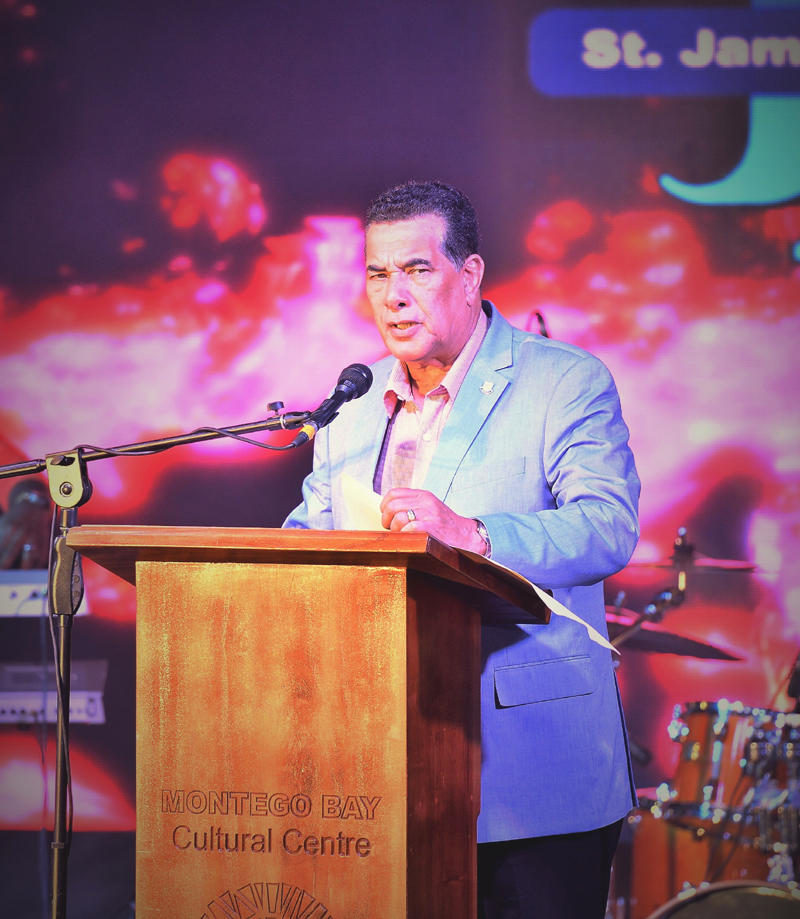 YOUR MAYOR SPEAKS: His Worship, the Mayor of Montego Bay, Councillor Homer Davis addressing the 2019 St. James Municipal Christmas Tree Lighting ceremony in Sam Sharpe square on Sunday December 15.
He said "it is a known fact we are living in challenging and trying times. However, there is no doubt that as a country and a people, we are truly blessed….It is no secret that we have been having a major anti-social challenges. However, I am confident that within short order the Security Forces will put a solid lid on the scourge and our parish and our city will return to a place of peace, safety and regain its status of being the friendly city… I bring a message of hope…a message of positivity and a message of optimism that 2020 will be the year in which we take full control of our parish, our city and indeed Jamaica".
 
In commending the work being done by members of the Security Forces in the parish, Mayor Davis said they have done exceptionally well in curbing crime, especially gun crimes.
 
"Let me commend the security forces for their efforts in tackling crime, especially gun crimes. They must be applauded for their efforts in making serious inroads in bring back the love to our parish….I also appeal to my law abiding Jamaicans to stand up and let the criminal elements in our society know that "ENOUGH IS ENOUGH". The time has come for Jamaicans to stop destroying our brothers and sisters and allow us to start enjoying the prosperity we deserve…The prosperity of a good life, of peace and of being able to go about their business without fear", Mayor Davis said
 
Meanwhile, Mayor Davis in re-enforcing the support of the St. James Municipal Corporation for the work of members of the Security Forces said the Corporation stands in solidarity with the Security Forces and will do everything that is legally required to assist them in bringing back our society to a place of peace and tranquility.
 
Meanwhile, Mayor Davis said the lighting of the Municipal Christmas Tree is a signal of hope and positivity for citizens of St. James as 2019 comes to an end and they collectively look toward the start of 2020.
 
"As we flick the switch to light our Municipal Christmas Tree…This is a symbolic gesture to show to the public that as members of the St. James Municipal Corporation we are leaders in the quest for unity and peace. The song "Man In The Mirror" by the late Michael Jackson is very apt for all of us today to take as our motto. As we end 219 and look forward to 2020, let us take a look at the man in the mirror and make the change, starting with that person. We are on the cusp of entering a new year…a new decade and I remain eternally optimistic that our City, our parish and indeed our country will continue on the path of development and improvement and ultimately become the place of choice to live, work, do business and raise families", Mayor Davis concluded.
 
Mayor Davis is also encouraging citizens not to lose sight of the true meaning of Christmas and also to make an effort to share the blessings which they have received.
 
"Christmas is a time of celebration and in celebrating, it is my hope that we do not lose sight of the true meaning of Christmas…Indeed the CHRIST in CHRISTMAS is what we should be celebrating. Christmas also gives us the perfect opportunity to do introspections and spare a thought for the less fortunate among us…the shut in, the vulnerable who continue to seek support from us", he said.